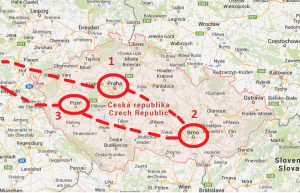 WHERE are we going to?
We are planning to start by visiting Prague, the capital of Czech. After a few days we will move more to the east to Brno, which is the second largest city of Czech. The last day we will spend in Plzen.
WHEN will the trip take place?
The Last week of the summer holiday, after the introduction week. So, 24th of august till 30th of August.
WHAT are we going to do?
During the trip we will visit high tech companies involved in Electrical Engineering and Automotive. Both Czech companies as international companies will be visited. We are also planning to do some cultural activities, such as visiting a university and the famous brewery in Plzen.
WHO can join the trip?
If you are a student of our electrical engineering department you can join the trip. Also first year students can participate.
WHY should you participate?
Well, why not, haha!  Going to companies abroad broadens your view. It is very interesting and informative to see how the knowledge you gained during courses is applied in the real world abroad. And most important of course is that we will have extremely much fun together.  So, a better end of your summer holiday is hard to imagine!